Located in the scenic Sierra Foothills in El Dorado County our ridge top vineyard has outstanding views. Our wines are a diverse collection of hand crafted wines which are all estate grown, something for everyone's palate.  
 Join us Saturday October 3rd for our Harvest Celebtration at 6pm. Tickets required and are available now.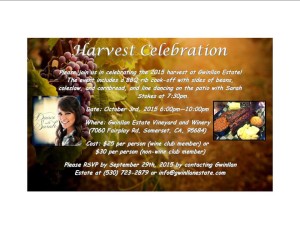 New 2015  awards – San Francisco Chronicle        Gold medal – 2010 Zinfandel
                                        El Dorado County Fair            Double Gold – 2011 Cabernet Sauvignon
                                        Orange County                           Gold medal – 2010 Petite Sirah

New wine releases : 
2014 Riesling
2012 Teulu,  A Bordeaux blend made in  an Argentinian style, based on Malbec. Delightful strong berry flavors.

Almost sold out



2014 Grenache Rose, made in the Provence style, a great wine for this summer.

Next Event:
Harvest Celebration and Rib Cook Off – October 3rd 6pm – 10pm. BBQ and smoke off between 3 master chefs. Line dancing under the stars. Tickets required.

Be a Winemaker for  a day at Gwinllan Estate
– Rhone varietals  –  March 5th and March 12th 2016
– Bordeaux varietals – March 19th and March 26th 2016
---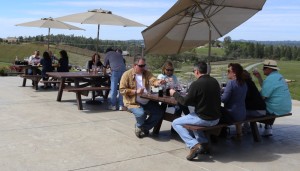 Learn the art of fine wine making and see how a classic Rhone wines are made. Taste through a flight of our Winemaker's Selection from 2009 to 2012. Can you predict the recipe for this year's 2013 Rhone blend ?  Create your own wine blend. You will receive a bottle of wine made to your own blend specifications. Lunch is provided. There is a limited number of participants, call or email Gwinllan for tickets which are available now. Tickets are $60 each,  $55 for Gwinllan wine club members. Noon to 3pm. Tickets must be purchased 2 days prior to the event.
Previous years wine awards:
El Dorado County Fair 2014 : 2010 Zinfandel – Double Gold  2011 Cabernet Sauvignon – Gold
Best Zinfandel in El Dorado County, Double Gold,  Frank Herbert Memorial award 2013.
Winemakers Selection – Gold  at El Dorado County Fair.
 We serve our Estate wines Friday, Saturday and Sunday from 11am to 5pm. Enjoy the wines and great views.
You can read more about us, and our wines in the blog as well as browsing some pictures in our gallery. If you'd like to get in touch please visit our contact us page.