Wine tasting is available at Gwinllan Estate every Friday, Saturday and Sunday from 11am to 5pm.We offer an intimate tasting experience with the family who grow the grapes and make the wine. Currently have the following wines for sale. These can be shipped to you directly or collected from the winery.
White wines

2012 Chardonnay
This chardonnay was crafted to bring out the subtle aroma and flavor of the fruit. The wine has been aged in premium French oak barrels to add an elegant oak influence. Honeysuckle, orange and lemon peel aromas subtly enhance the crabapple, vanilla and nutmeg flavors.
Price $28
  2014 Muscat Cannelli
A fruity semi-sweet wine with just 0.7% sugar. Great wine to serve on the patio or by the pool in the summer.
Price $20
2014 Riesling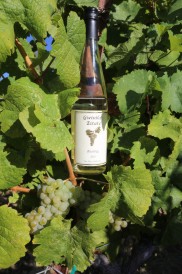 A dry white wine, refreshing when served really cold. Almost sold out.
Price $24
Rosé wines

2014 Grenache Rosé
fruity and light $26
Red wines

2010 Petite Sirah
El Dorado County is well known for its award wining Petite Sirah. This wine is deeply colored and full bodied. Boysenberry and chocolate aromas in the nose complement the cocoa and toffee flavors.
Price $42

2012 Zinfandel
The climate and soils in El Dorado County produce full flavored Zinfandel, some of the best in California. Our vines are farmed for reduced crop and higher quality fruit. Blackberry and cherry aromas complement a sweet fruit mouth feel with a toasted coffee and spice finish.

Price $36
2011 Cabernet Sauvignon
Grown in the toughest soils in the vineyard with a specially developed farming program. It has pure and deep aromas of blackberry, plum, and cassis harmoniously intertwine with the subtle mix of black current and warm caramel.
Price $40

2011 Winemakers Selection
The 2010 Winemakers selection is a Rhone style blend of  Grenache, Syrah and Mourvedre. This wine blend was created to bring out and enhance the flavors of these grape varietals. The blend selection is performed every year, and the amounts of each varietal change with the vintage to produce a smooth balanced wine. Our aim here is not to replicate the famous Chateauneuf-du-Pape  blend but to bring out the great aromas and flavors these varietals produce in this part of California. In this wine, strawberry, lavender and caramel aromas tantalize the nose, blackberry, black pepper and toasted almond flavors tantalize the palate.
Price $40
2013 Teulu (Malbec)
Rich and dark with many strong berry flavors.
Double Gold medal at San Fancisco Chronicle wine contest 2016
$40
Desert Wines
2012 Zinfandel Vintage Port
Made in traditional style this wine was barrel aged in our cave under the vines for 4 years. Limited production.  500ml
Price $36
To order wines call 530 723 2879 or email wine.ord at gwinllanestate.com. Case discounts are available for a case of a single or mixed varietals.